Why the Guest Room Needs a Private Bathroom?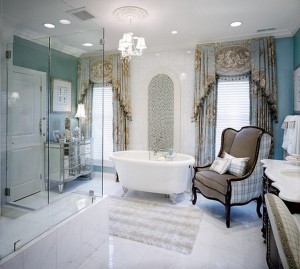 If you have a guest room in your house, then odds are the premises has a sufficient enough area to support a second bathroom, as well. Having a private bathroom for your guests can provide many benefits, both for you and people who visit you. If you have a guest room in your house, then odds are you are frequently (or at least occasionally) having people over. A private bathroom can enhance their stay at your place, while in the same significantly increase the value of your property.
Guest comfort
The bathroom is the most sacred and private place in your house. If you have a private bathroom for your guests, they will feel much more comfortable using it and in the same time they will appreciate the fact that you've put enough thought into it, making you feel good about it in the same time.
Imagine you were in someone else's house and had to use their bathroom. It's not really all that comfortable, especially if you were there for a few days and had to take a shower or something. Wouldn't you agree? Of course, if they had a constructed a private bathroom going with the guest room, that would've been a whole other story, wouldn't it? Before you do anything potentially involving other people, put yourself in their shoes. Think about how would you feel if you were in that situation and make the choices. This way you would know what to expect and how to make other people more comfortable. After all, that's what it's all about, right?
If you decide to rent the room out
If you decide to improve your overall income by renting out the room, you will get a much better price if the room goes with a private bathroom. I mean, think about it – who would want to live in a house where they would have to share a bathroom with a random number of other people? The only way somebody would agree to such atrocious terms is if the price of the room was extremely low. This doesn't have to be the case, however, since all you have to do is to build another bathroom and the whole concept receives a whole new meaning. Simple – yes, cheap – not exactly but it's absolutely worth it.
But it's not only about the money. You need to think in perspective. Just like with the section above, your tenants need to feel comfortable. This will be a business decision so you want to make the most out of the least investment. The bathroom will practically pay for itself in a few months.
Selling the place
If you decide to outright sell the house, the second bathroom will give you a much better price, too. The difference is not negligible and is far bigger than the finances you would have to invest in order to add the said bathroom to the house.
With the higher value of your estate, you will be able to afford a much better house after you sell the current one. It will be much easier to sell because having two bathrooms sounds fancy – it's what most folks think rich people have and it can be something to brag about to their friends. It's a sign of prestige and higher standing and you can be sure most chaps would kill for the privilege. It's also what your house will have over other houses in the neighborhood.
No matter how you look at it, having a second bathroom is nothing but beneficial. It would create much needed comfort for your guests, improve your image and raise the price of your estate.
Author Bio: July Morgan is really passionate about home improvement tips and advices. She loves to read about new improvements and DIY projects. She currently works as a manager at http://www.tenancycleanerslondon.co.uk/end-of-tenancy-cleaning-west-london/  and she really loves her job. In her spare time she loves to take long walks with her family.
The following two tabs change content below.
Sanju kmr
I am a Search and Social Media enthusiast who loves exploring the true potential of Web 2.0 and Social Media.
Latest posts by Sanju kmr (see all)