Creating a Personalised Bedroom with the help of Wall Art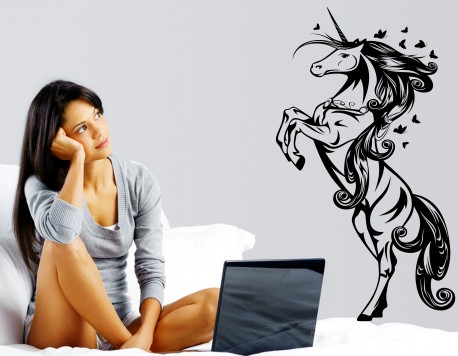 The bedroom is one room in the home what should be unique and special for each and every person. In the bedroom, you can show your own personal style, and individual preferences.  There is something very special about a bespoke design, or personalised piece of art work. A personal name or message can add a personal significance, or even bring sentimental value. Giving your bedroom a personalised touch can be simple when using Wall art. Here are a few creative and innovative ways to personalise,and add decoration to your bedroom:
Wall Art Stickers
If you want to cover a large blank wall space quickly, using Wall stickers is one of the best ways to do so. Versatile, cost-effective, fun and decorative –wall stickers are an ideal alternative when wallpaper or expensive paint is no longer an option.  You don't have to worry about mistakes, stains, mess or expense. And once more, by personalising a decal you can instantly add a personal touch to your living space within minutes.  A wallart2u sticker can instantly transform a bedroom. When applied correctly, a decal will often resemble a high end piece of art work. This illusion will often captivate and draw attention away fromless appealing aspects of a bedroom. Furthermore, Wall Stickers are a fantastic way for creating a focal point in a bedroom. By placing a large "3D" style image above your bed, you can instantly create a visually appealing bedroom for all to admire.
When personalising your bedroom, a personalised quote sticker will fit the bill perfectly. Quote stickers can often be used in many different rooms in the home. A decal placed in an office for example, can offer much needed motivation, or encouragement. A personalised name plaque on a door will give your bedroom personal ownership.  A beautiful personal message in a child's bedroom, nursery or play area will add a real sentimental feeling to the room.
Photos
Memories are one thing which will never grow old.  By displaying a personal montage, you can really add a heartfelt feeling to a room. Display photos which are most treasured and meaningful to you.  Add decoration by placing a wall sticker or stencil around the display. Alternatively, blow up your most treasured photos and add them to canvas. Black and White photos will add an interesting dimension to the room, and often resemble a treasured past time.
Scrapbook Pages
Framed Scrapbook Pages are a clever way to add some wall art to your bedroom. Interesting pages which are significant to you should be mounted onto the wall. Add some vibrant coloured picture frames for an instant splash of colour. If you have any signed Autographs or personal messages from loved ones, placing these in your bedroom can also be a lovely way to add real significance to your bedroom.
Create your Own
Sometimes original pieces of art are often the best. Children love to be creative, so take advantage and ask them to make their own pieces. Canvas is a great material to work on. Be as artistic and creative as you wish. Paints, glues, flowers, beads and diamantes are all good accessories which can be used to create a unique and special piece of creative wall art.
Alison Evans loves to be creative, and likes all this arty, especially for the home.
The following two tabs change content below.
Sanju kmr
I am a Search and Social Media enthusiast who loves exploring the true potential of Web 2.0 and Social Media.
Latest posts by Sanju kmr (see all)