My idea of a white kitchen
Having a plain white kitchen can be fun to think of. However, you will soon realize that it can get really boring. Although a white kitchen may seem contemporary, it is still a must that you add some elements into it.
A white kitchen is a blank pallete that is very easy to work with. With a white kitchen, you can get to add subtle or bold colors, you can go plain white or pair it with a pastel color. The kitchen is your pallette and your ideas and kitchen accessories are your paint brush. A white kitchen allows your imagination to run wild.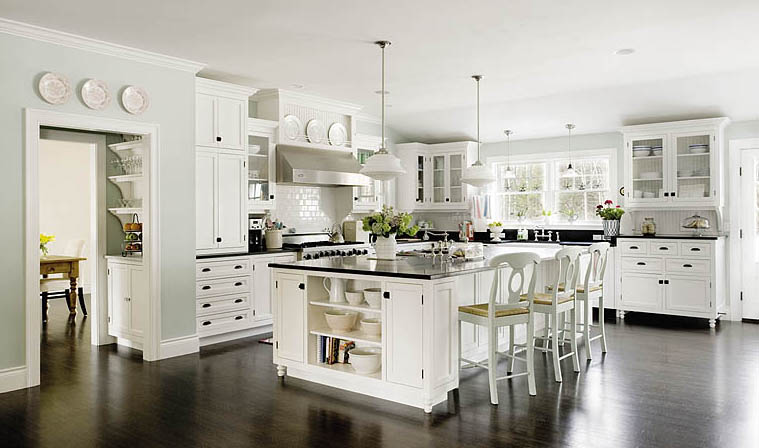 Here are some of my ideas for a white kitchen:
Kitchen chairs
Too much white in the kitchen can really become a bit dull and boring. This is why you should allow some aspect or part of the kitchen to have a contrasting color so that it will bring spice to the room. Kitchen chairs is the best thing that you can play with, You can opt for wooden chairs that will give the room a classic homey feel. This does not only add a touch of personality in the room; it also adds some life into an otherwise boring white kitchen.
Hanging artworks.
A kitchen with no artworks can be really boring. However, a plain white kitchen with no art pieces is just a nightmare. You want a white kitchen but that does not necessarily mean that it should be just plain white. You can hang your favorite art piece in your kitchen. It is highly recommended that you opt for one that is bold and colourful so it brings character to your kitchen.
Countertops
In an all-white kitchen, one more thing that you can play with is your counter. A marble counter seems to be the perfect addition to your kitchen. Make it gold marble counters and you will be amazed with the sight to behold. You can also add some lights under the cabinet in order to highlight this amazing visual interest. When you do this, the contemporary look of the kitchen will be enhanced.
Flooring
A white flooring may seem great for a white kitchen but it's not. Why is this so? Well, white tiles or marbles can be easilys taines. Since kitchen is a place where you can get to mess around, having such flooring is highly discouraged. Because of this, it is best that you opt for a dark floor.
Backsplash
No matter how small your kitchen really is, it will look a lot wider if your cabinets, drawers and backsplashes are painted white. This simple idea will also work well with dark flooring.
Lighting
White kitchen should have large windows to allow natural light to come in. You can also add in some spot lights on your counter for dinnertime preparations.
Chef Linda Rosario is a food blogger from Chef Needs, one of the trusted suppliers of gelato display cases. She also loves to paint and dreams of having her own art gallery. Aside from painting and drawing, Linda has a heart for cooking and food.
The following two tabs change content below.
Sanju kmr
I am a Search and Social Media enthusiast who loves exploring the true potential of Web 2.0 and Social Media.
Latest posts by Sanju kmr (see all)