Get Started With Increasing Your Property's Value
Just as there is much you can do to boost the value of your home, so there are counter-productive measures, which you should avoid. Here, we'll present both the good steps to take, guaranteed to add some value to your house or flat, as well as the dodgy undertakings, which you should by no means attempt. You may be on the cusp of selling up and therefore looking to make the best possible profit. Or you could be years away from considering such a move, but simply wanting to think ahead and add some value regardless.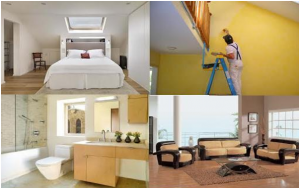 With the exception of the London property market, house prices are prone to soar and plummet. Taking active steps to increase your home's value is therefore a better bet than sitting back and hoping that prices go up on their own. Some 'dos and don'ts', designed to get you started…
Do…do that loft conversion. The vast majority of the work for a loft conversion can be done on the outside, protecting you from disruption and other negative impact. Keep in mind the importance of having easy access (new staircase rather than a drop-down ladder) as well as making the conversion look like it was always part of the house rather than some kind of bolt-on afterthought. The distinct chance is that you can spend £20,000 but increase the value of your property by £40,000.
Don't…do a DIY botch-job. If there is a conspicuously bad DIY effort on show in your home, you'll be undermining buyers' confidence. Quite understandably, they will see the bad DIY and wonder about all the possible mistakes that they can't see. There's no faster turn-off than this.
Do…paint, paint and paint. The outside of your house should be pristine if you're trying to lure potential buyers through the front door. As well as painting, this means clean windows, uncluttered driveways, clear gutters. On the bright side, you'll be putting in, say, £500 worth of work but adding up to £5000 on to the value of your home. Call in a house removals London company to shift the furniture etc. You wouldn't want to land up with an unnecessary back injury.
Don't…push your property beyond its natural value. If you've built so many add-ons and extensions that you now own a £500,000 property but all your neighbours' houses are worth £300,000, then you have a problem. Buyers looking to spend £500,000 don't want to be surrounded by £300,000 houses. They will look elsewhere and end up buying in a street where all the houses are £500,000.
Do…address the bathroom. Buyers have far higher expectations than they used to of bathrooms. The good news is that you don't need to do a lot. You can give your house a 3 per cent boost with new taps, heated towel rails, larger shower head, power-shower and additional, prettifying installations such as glass screens instead of a nasty shower curtain. With the exception of the power-shower, this is just a couple of hundred pounds altogether.
Don't…be tempted to buy all-new furniture in order to swing a sale or increase your property's value. Although you'll be making a nicer presentation to potential buyers, you will not be in any way increasing your home's value. It's an unnecessary measure and can be safely disregarded.
The following two tabs change content below.
Sanju kmr
I am a Search and Social Media enthusiast who loves exploring the true potential of Web 2.0 and Social Media.
Latest posts by Sanju kmr (see all)