Which one would you Prefer – DIY Junk Hauling or Professional Trash Removal?
Rubbish removal can be a nightmare, especially if you have been collecting junk over the years and have not had time to get rid of it. It can pile and the very thought of sifting through this pile is sufficient for you to postpone it! But accumulated junk is never appealing and it can eat into valuable space that could be put to better use.
When it comes to trash removal, you have two options in front of you. One is the DIY route, while the other is getting a professional company to do it on your behalf. Both have pros and cons and understanding them will allow you to make an informed decision.
DIY Trash Removal – Pros and Cons
The biggest advantage of a DIY trash removal undoubted is cost saving. You will save money by sorting things yourself and then getting a hauler to dispose of the trash. During the sorting, you can decide the things that can be donated to charity, given to friends or sent to the landfill. This can be a time consuming job and not something you can finish in a day. So be prepared to forgo a couple of weekends to get rid of your rubbish.
Also, do not forget to add up the cost of the petrol, as you will be driving back and forth to haul your junk. If you take this into account, the DIY route may not be that cheap or cost-effective.
DIY rubbish removal can lead to unnecessary injuries or create safety hazards if you do not take care. This is something you can do without.
Once you have done the trash removal, you will be able to use the space for something more meaningful.
While DIY trash removal may look like a good way to save money, it is inconvenient and can eat into productive time.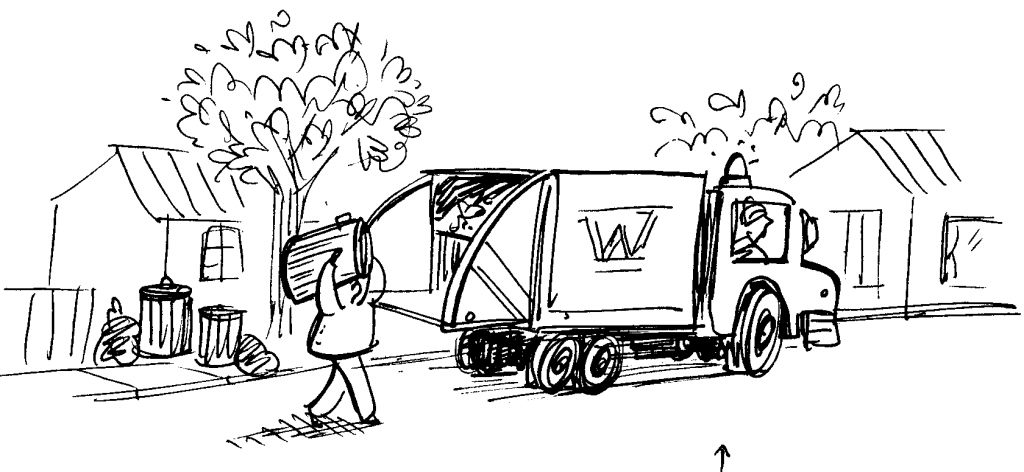 Professional Trash Removal – Pros and Cons
Most people stay away from professional trash removal as they find it an expensive proposition. However, they forget the many advantages that come with it. Firstly, you do not have to worry about doing the job because you have professionals dealing with it. This means you can use your time more productively and get about finishing your chores at home.
Getting a professional also means you can do something for the environment. Many professional trash removal companies have sorting and recycling facilities. So the things you dispose are sorted and recycled to reduce the burden on the environment. As majority of the things is recycled, fewer items make it to landfills, thereby reducing air, soil and water pollution.
Professional removal of your rubbish eliminates risk of injury or safety hazards, as these companies have the necessary equipment and gear to handle all shapes and sizes effectively. Their personnel are trained on safety aspects of trash removal, something you may be completely unaware of when attempting DIY junk hauling.
Furthermore, professional trash removal takes place quickly and efficiently. The company has the manpower to haul the unwanted items in your premises and with several people working simultaneously, the entire process hardly takes time.
The Verdict
When it comes to choosing between professional trash removal and DIY junk hauling, there is no doubt that the former is the right option not just for businesses, but also for homeowners. It allows you peace of mind knowing that you just have to point out at the things you want removed and without a hitch they will disappear from your premises. You need not worry about hauling or disposing. And, you do not have to worry about your carbon footprints.
If you are looking for rubbish removal and waste disposal – Tweed Shire, it is best to call in a professional like Borderskipbins and let them do their thing. After all, they know what they are doing. Do not let junk and rubbish in your premises turn into a nightmare. Instead use convenient and affordable professional rubbish removal services and breathe easy.
The following two tabs change content below.
Sanju kmr
I am a Search and Social Media enthusiast who loves exploring the true potential of Web 2.0 and Social Media.
Latest posts by Sanju kmr (see all)