Traditional shapes and types of entrance floor mats to greet your visitors
Who doesn't love an appealing entrance mat? Devoted homeowners are used to paying close attention to their home's interior décor as well as their exterior. Outside the home, on the porch, most people are used to placing the ugliest and filthiest door mat. Don't you want people knocking on your door to feel welcomed? It's impossible to achieve that goal with a terrifying entrance mat. Believe it or not, these rugs are extremely convenient. Made of top-quality materials and cool designs, they can change your home's appeal to 180 degrees. Let's have a closer look at some traditional types of entrance rug you might want to consider for your home.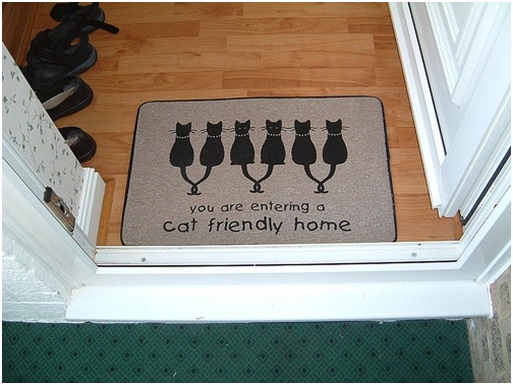 Traditional coconut fiber entrance mat
Made 100% from coco fiber, this beautiful entrance mat is extremely useful and practical. It features anti-slippery backing; it's biodegradable, heavy duty, and long-lasting. Apart from the really cute message, the rug can successfully trap moisture and dirt. The sharp design, beige color, and traditional shape, make this mat a perfect addition to your home. Guests will surely feel welcomed. Cleaning is rather simple; all you have to do is shake off the mat every couple of days to make sure bacteria and chemicals are kept away from your marble floor.
Holiday-themed doormat
A coir doormat meant to keep snow outside the home is exactly what you need for this holiday season. Prior to making an investment, don't forget to opt for the right size of the mat. Both feet should fit comfortably; as far as the design is concerned, this reindeer rug will make sure to instill the Christmas spirit in anyone that knocks on your door. The holiday season is right at the door, so now it's the perfect time to make your family happy and your home décor as cheerful as possible. Although a great design will surely appeal to your senses, don't forget to invest in quality too, and the main purpose of the entrance mat shouldn't be overlooked.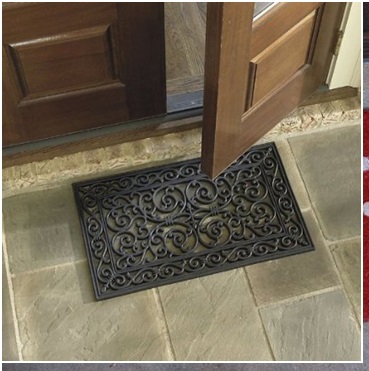 Scraper mat
A scraper mat is a classic type of mat placed just outside your door. It acts as a primary defense barrier against exterior germs and bacteria that might affect the health of your dear ones. Furthermore, it traps water and dirt, thus making sure your floor remains intact. A scraper usually has edges that chafe against the shoe sole, as well as a vinyl system meant to hold debris. Because of the thick shape of the mat, you won't be able to see the dirt. Still, to make sure it stays clean, it might be a good idea to shake it ever couple of days.
Highgate doormat
Made of indestructible molded rubber, these gorgeous entrance mats look like beautifully crafted iron mats. Impermeable to water, cold, and heat, every home should have a highgate doormat at the entrance in order to make guests feel welcomed. The rubber material will keep the rug in place, while the beautiful exterior design will definitely make your home look chic and modern. Believe it or not, entrance mats can significantly change a home's general appeal.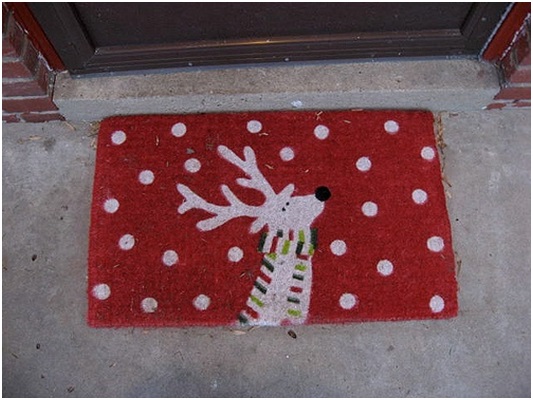 Stained glass doormat
Made 100% of polypropylene, a stained glass doormat is not just convenient and useful, but also extremely stylish for one's home. It features special deep channels meant to trap dirt inside and direct wetness away from the shoes. These non-slippery rugs are fade-resistant and suitable for all types of floors. Featuring a super strong composition with thick fibers, the rug absorbs whisk mud from the feet of your pet as well. Cleaning them is easy – use water and a mild detergent to rinse off grime and dirt with a hose.
Do you want guests to feel welcomed in your home? Are you ready to make them feel greeted with open arms? Then you should start by investing in an appealing entrance floor mat. Whether you're thinking about a rubber rug with classic designs or you'd like to get into the holiday spirit with a holiday-themed doormat, don't forget that the purpose is to put a smile on the faces of your loved ones. Keep things simple and opt for the simples shapes, or think outside the box and explore your options. In the end, the choice is yours so you'd better make the most of it.
The following two tabs change content below.
Sanju kmr
I am a Search and Social Media enthusiast who loves exploring the true potential of Web 2.0 and Social Media.
Latest posts by Sanju kmr (see all)