Thrifty Kitchen Magic
So you've decided your kitchen needs revamping, but don't want to take on a complete overhaul? No worries, here are a few affordable ways to work magic on your kitchen that will give it a brand new look.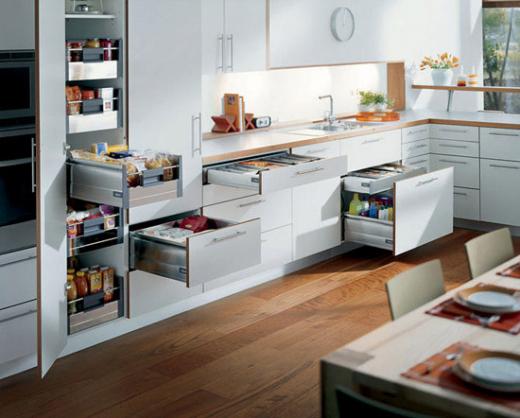 Paint
Paint is one of the least expensive ways to transform the look of your entire kitchen. Pick a completely new color for the walls, go two-tone, or paint just one accent wall or the backsplash. It is also possible to paint your refrigerator: just sand it, put a primer on it, and then paint it whatever color you choose. It can be a pop of color in a neutral-themed kitchen, or be turned into a classy white appliance.
Cupboards
Cupboards can be fun to play with to create a new look. They can be very expensive to replace, but if you refinish the existing cupboards it creates a new look without the cost. Put a new color on them or stain them to bring out the natural wood.You can also paint the inside a different color than the outside. Experiment with taking the doors completely off for open cabinets, or put new handles on the outside for accents.
Décor
Sometimes all you need to boost your kitchen's look is a few well-placed decorations. Scout the thrift store for a couple of lamps to place on the countertop.Change the curtains or blinds to spruce up the windows, or find clock or plaque to add a splash of color. If your kitchen is small, add a mirrored backsplash to create more depth and the impression of more space.
Fixtures
A new faucet, sink, or lights can go a long way in changing the look of your room. A new faucet and sink can create a sleeker, cleaner look, and you can go for a drain inspection while the pipes are exposed to make sure your new sink and faucet will not cause leaks. New light fixtures will bring in more light to brighten the room, and the design can bring in extra flavor and character.
A kitchen makeover does not have to be a costly overhaul.Mixing and matching these options can save you time, headaches, and money, all the while giving you a look you will love for years to come.
Author Byline
Chris Miller is a professional writer, blogger, and English grammar enthusiast. Chris enjoys a wide variety of things, including all things literature, new health products, and home improvement ideas.
The following two tabs change content below.
Sanju kmr
I am a Search and Social Media enthusiast who loves exploring the true potential of Web 2.0 and Social Media.
Latest posts by Sanju kmr (see all)