Say Welcome with Clean Door Mats
We use our door mats on regular basis, but did we ever stop to think just how dirty can door mats get after years, and years of constant use? Quite a lot actually, and the more you let your door mats go without cleaning, higher chancer are that you are going to contract some disease, or at the very least – track dirt inside your home. But to tell you the truth, door mats are not that difficult to clean – depending of course what kind of mats are you using. But regardless, the process is easy and intuitive, let's have a look.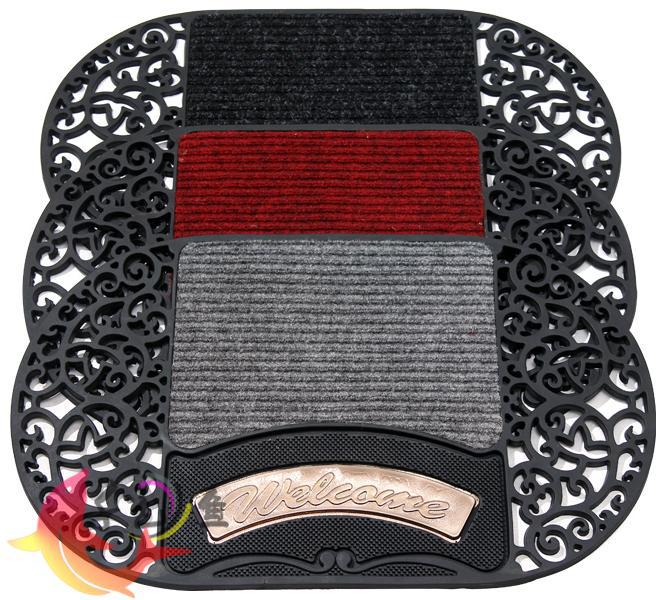 Types of door mats
There are usually two types of door mats: rubber/vinyl and fabric based. Most fabric based door mats are washer friendly and can be cleaned in a regular washing machine. Before you attempt anything however, it is a good idea to read all the labels and indications on your door mat. If you door mat is not washer friendly, there are other ways to handle the problem.
Cleaning fabric door mats
Most door mats can be cleaned in the washing machine using regular laundry detergent and, if you wish, fabric softener. There is no need for heavy-duty cleaning; a simple rinse and wash cycle is all your door mat needs. Just don't put anything in with the door mat when washing it, please. Cleaning your door mat manually is also an option. Always remember to vacuum your door mat before cleaning it with water and detergent. You can even "beat" your door mat against a wall or on a rock for better results.
Once that is done you have two options – you can use regular laundry detergent, a soft-hair brush and some water to clean your mats, or you can rent a professional grade dry cleaner. Using the dry cleaner is going to save you a lot of time, and the best part is you know you will do a good job, every single time.
Cleaning with a brush sound like fun, but chances are, you are going to miss something or you will put too much laundry detergent, and then it is going to be impossible to get all the suds out without drenching the mat in water.
After you are done cleaning your door mats, it is time to hand them out to dry. Do not put door mats into your dryer, for the heavy mat can de-calibrate the rotation of the drum – breaking your dryer almost instantly.
Cleaning Rubber/Vinyl Door Mats
These are so easy to clean, I don't know why people having trouble with them. All you need to do is to get your door mat outside, in a well ventilated area, and just pray the whole thing down using a hose. Get a hard/metal brush and a bucket of soapy water. Dip the brush in the bucket and go over every last inch of the mat – making sure that you get around corners and into hard to reach spaces. Rinse everything with water again and let your mats hang under the sun until dry. You can use bleach, or some store bought detergent, although that would be too much if you ask me. The key is getting all the dirt build-up off your mats, the rest is just a formality.
Author Bio: As a manager of http://www.tidycleaning.co.uk/end-of-tenancy-cleaning-n10-muswell-hill/, July Minor has a lot of fresh ideas which she loves to share with her readers.
The following two tabs change content below.
Latest posts by July Minor (see all)