Make Better Use Of The Sun's Heat And Light – Hang Your Wet Laundry To Dry Using Retractable Clothesline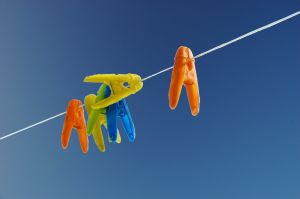 You see all that sunshine outside; you're not keen on getting your skin burnt and increasing your chances of developing skin cancer by hanging outside, but you know it would be such a waste to not use all that light and warmth. What can you do? And what wouldn't burn under all that heat? Wet laundry!
Too bad you've been too dependent on your electrically powered clothes dryer, huh?
Well, if you have amazing sunshine for the most part of the year where you live, surely you can make some little changes, make better use of blazing hot days, help the environment and save some money along the way. Installing a clothesline even in a small spot behind your house can make all the difference, and if you have a really big yard, then that's all the more reason for you to put up a clothesline for drying laundry because the benefits are definitely worth it.
Now, if you're worried about not having sturdy enough posts in the little space you have at the back of your house to properly hold the line especially when it's heavy with wet clothes, blankets and curtains, you can go for the retractable clotheslines which are sold nowadays. All of them are very easy to install and you don't need to be a highly skilled handyman to mount them on your wall or whichever part of your house you wish to place them. Once you're done using the clothesline, tucking it away is just as quick and easy. Plus, the next time you use it, all you really need to do is pull it out and "lock" or "hook" securely on the other end.
Top clothesline manufacturer Hills is highly recommended if you're looking for superior quality clotheslines; the Hills Retractable Clothesline comes in four designs you can choose from to fit the available space you have for drying clothes. There's the Hills Everyday Retracting 5 Clothesline which you can mount on a wall; it has five lines, just the right number of lines to hold yours and your spouse's daily laundry. And then there's Hills Extenda 6 Clothesline which has six lines, perfect for a small family's daily laundry. For single folks, on the other hand, there's the Hills Extenda 4 Retractable Clothesline and the very affordable Hills Cordomatic Retractable Clothesline which is a single line that can extend to a good distance and is ideal for small laundry items like underwear, delicate tops, and other light items.
You can choose from any of these different provisions and turn drying laundry into one of the top energy- and money-saving solutions for your household.
About the Author: Kenneth Lawrence is a "handyman". His craft involves DIY home concepts and he shares his ideas, guidelines and tips about home improvement through blogging. Kenneth shares that the use ofretractable clothes line from http://www.clotheslineshop.com.au/ helps save space and is aesthetically appropriate for small homes.
The following two tabs change content below.
Sanju kmr
I am a Search and Social Media enthusiast who loves exploring the true potential of Web 2.0 and Social Media.
Latest posts by Sanju kmr (see all)