Improving the Property You Let – Home Improvement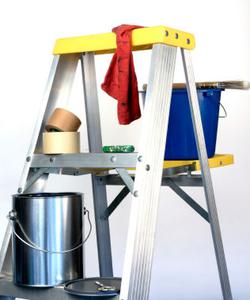 The summer months mark a time when property landlords conduct home improvement in some, if not all, of their properties. Tenants going on vacation, students moving out for the summer and the dry weather providing ideal conditions to conduct outdoor work means that across the country landlords are making improvements in all areas.
For landlords who need to do a plethora of work to their property, it can be difficult to know where to start when it comes to home improvements, so here's a short list to get you started.
Make your property safe to live in
This is undoubtedly the place to start regardless of where your property is located. Nobody wants to be dealing with a tenant who has broken a leg due to a loose floorboard – the compensation will not do your wallet any favours and your reputation will be tarnished. Therefore, fix up any loose floorboards, wobbly banisters and shaky doors to ensure that your tenants will have a property that's safe and comfortable to live in.
When improving the safety of your property you should also ensure that fire and electrical safety is up to date with current regulations. Working fire alarms are a must and there should a clear escape route too alongside a fire extinguisher and blanket that are easily accessible. Electrical safety is paramount too, especially due to infamous cases of deaths by electrocution – a British politician's daughter was killed due to a botched kitchen fitting in 2004 and more recently a Chinese woman died by answering her phone that was charging at the time. Therefore any modifications should be carried out by qualified electricians, who will be armed with trusty multifunction testers that are able to check that all wiring and equipment is safe to use.
A lick of paint
Improving the paintwork of a property is perhaps the most common home improvement but one that will go a long way. Ensuring that the interior of your property is aesthetically pleasing will show to any potential tenants that you care about the upkeep of their home. There's no denying that a poorly decorated property will be off putting to those looking to rent – they want to feel like the property is new, even though they know it has been lived in previously. Renovating a kitchen or bathroom may carry a steep initial cost but will reap rewards in the future.
Outdoor improvements
Nobody likes an overgrown garden, no matter how attractive the interior of a property is. Estate agents may charge a fee for the upkeep of a garden but it's a small price to pay particularly when the rent you receive will cancel out the initial cost entirely. However, you could maintain the garden yourself and if overgrowing weeds is troubling you it could be worth building a patio for the entire garden, ensuring that the upkeep effort is kept to a minimum. Garden decking or gravel features are also easier to maintain than a lawn.
Repainting the outside of your property or cleaning the brickwork will also improve your chances of securing tenants and will ensure you gain respect among the neighbourhood. The dry summer months provide the perfect opportunity to improve the outside of your property.
Maintaining the upkeep of your property can be difficult, particularly if it's one of many. However, it's important to treat your tenants how you would like to be treated and ensuring their living conditions are the best they can be will earn you vast amounts of respect.
The following two tabs change content below.
Sanju kmr
I am a Search and Social Media enthusiast who loves exploring the true potential of Web 2.0 and Social Media.
Latest posts by Sanju kmr (see all)