How To Care For Your Clothes And Linen On The Clothes Line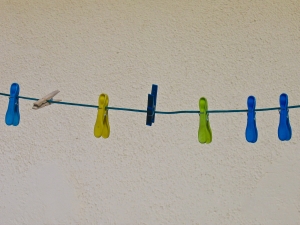 In some suburbs, the practice of line-drying clothes and linen used to be "frowned upon" because most neighborhood associations considered it to be unattractive. Today, however, with the increasing concern over the environment and the upward trend in energy costs, line-drying has returned to the "backyard scene."But apart from reducing electric or gas bills by as much as $100 to $300 annually and keeping carbon emissions low, using clotheslines to dry your laundry also keeps your clothes durable as well as smelling fresh and natural.
To ensure that your clothes and linen are well cared for, you may need to follow a few simple guidelines on getting the sort of clothes line you will need, picking a line-drying site on your property, and implementing a hanging set-up.
Choose a clothesline that fits the load of laundry you need to do and one that works for your space. There are plenty of clotheslines to choose from in the market, from rotary types (height-adjustable and best for homes with big backyards) to retracting models (can be anchored to walls and ideal for properties with limited space) to portable ones (can be used in any part of your home and folded away when not needed).
Pick a line-drying site where you will be able to dry laundry with ease. This means that the site should get the ideal sunlight or wind, and that large linens can be dried without the items brushing the ground. Also, think about foot traffic. Your kids or guests should not have to run into the laundry being dried to get to another part of your home and you should be able to manage carrying back a load of dried clothes and linen without walking very far.
Need to dry your clothes quicker? Give each item a quick shake before hanging so that they dry quickly and you get reduced wrinkles, allowing you less clothes to iron.
Keep your clothes and linen from getting blown over by harsh winds and get sturdy pins. Invest a few extra dollars on good quality clothespins so that you do not have to run about the yard picking up clothes and linen you are going to have to rewash should a strong gust of wind come by.
Hate clothespins mark on your favorite shirt? Then line-dry your tops from the hem to avoid peg markings or use plastic coat hangers and clip those to the line.
Finally, read drying instructions for your clothes. Sun-sensitive fabric should be line-dried inside out so they do not fade while stretch-prone items like swimsuits should be dried spread out in the shade.
Author: Kenneth Lawrence- a passionate "handyman". He writes and reads almost anything that can hone his skills and increase his knowledge about DIY concepts and other home improvement stuff. http://www.clotheslineshop.com.au/ is one of his resources.
The following two tabs change content below.
Sanju kmr
I am a Search and Social Media enthusiast who loves exploring the true potential of Web 2.0 and Social Media.
Latest posts by Sanju kmr (see all)