How to Buy the Perfect Executive Desk for your Office
An executive desk is an extremely important piece of furniture as a large part of your day revolves around it. It must exude professionalism, orderliness and success. It must also reflect your style and ambition, while at the same time must be extremely comfortable to use. An ideal executive desk is one that perfectly suits all your needs and also fits into your constraints of budget and space.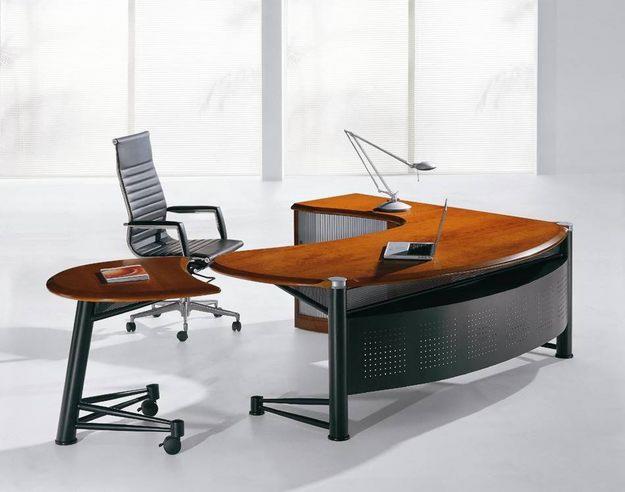 Let's understand the important aspects you need to know before you buy an executive desk for home office or workplace.
# Know Your Constraints First
I look at the constraints in two ways – budget and space. Some buyers are constrained on both the fronts, while some have the budget but not the space or vice versa. As the first consideration in the process of buying, you need to know in which room of your house or which part of your room / office space you need to place the executive desk and how much space is available for you.
Then you need to allot yourself a budget to spare for the same. I would advice you not to be stingy on this front and allot a reasonable budget which you can afford. An executive desk is not just merely about utility. The kind of executive desk you use for your work conveys a lot about the esteem you attach to your work.
 # Understand Your Storage Needs
Have a fair idea of things you would be storing in the office desk and how much space you would need for those. While evaluating your storage needs you need to be more forward looking. In quite a few jobs, your storage needs grow with time. You need to keep this in mind, so that you do not have to regret your decision later on in time. For instance, if you know you would be requiring a printer frequently, choose a desk that has a provision to carry a printer.
Broadly, you can divide your storage needs into:
1)   Those things which need to be just in reach and handy
2)   Those storage items which are required less often and you do not mind moving a bit to access
3)   Future storage needs
Even if you are constrained for space, you can hope to get a well-designed executive desk that not only fulfils your storage needs, but also fits into your space / budget constraints.
# Shape of the Executive Desk
Decide the shape that would best suit your needs. If you just have a corner of a room to yourself, you need to opt for L-Shaped furniture. But if your storage requirements are going to be significant, select a U-shaped desk instead. Depending on the space availability, storage requirements, personal preferences and aesthetics, you can choose between desks that have more vertical spread or desks with a higher horizontal spread across the floor surface.
 # Material of the Executive Desk and Portability
While you buy executive desks, you mostly expect it to be durable. If your job requires you to keep shifting your workstations make sure that the office furniture is lightweight and portable.
Executive furniture are available in all kinds of material like hard wood, steel, particle board and plastic. Desks made out particle board and plastic are portable and lightweight, and if you expect to keep moving to different places over time, such desks should be your choice. On the other hand, office furniture made out of hard wood like oak and mahogany are sturdy and durable. These will also add an element of magnificence to your work place.
Wrap Up
While buying executive desks, it is important to keep all the above considerations in mind and not just focus on just one or two criteria. Since there is so much variety in workstations, you can easily hope to get an executive desk that offer both sense and style.
The following two tabs change content below.