Floor Cleaning & Maintenance Tips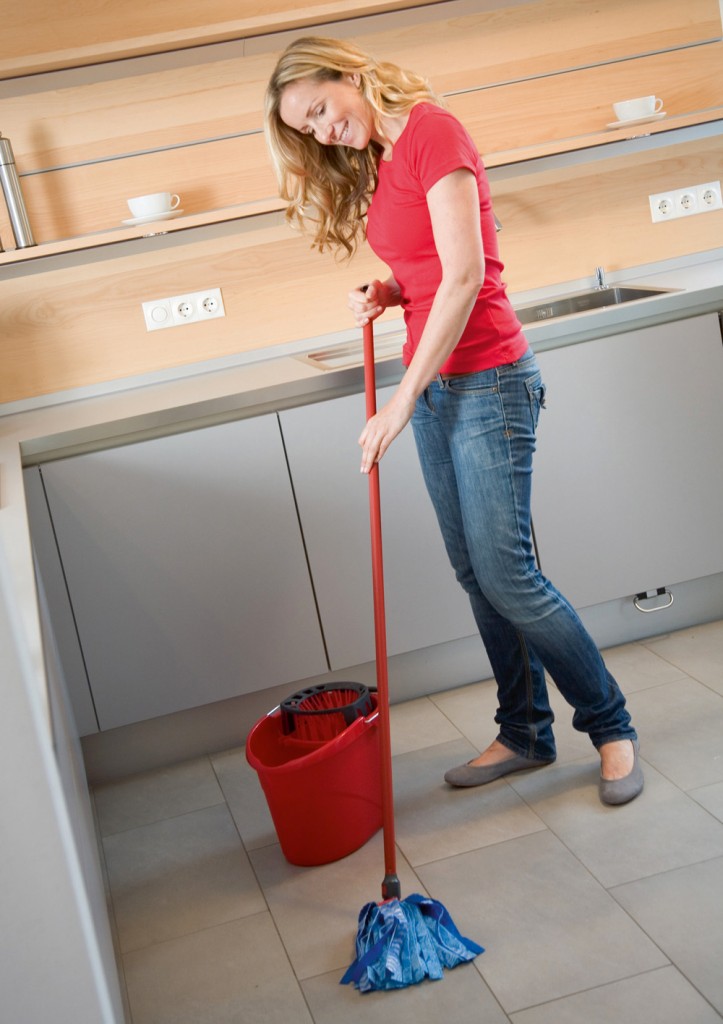 Regular floor cleaning and maintenance is an integral part of home cleaning and improvement. If you want your floors to look good for many years to come, you need to clean and maintain them regularly. Else they would become dull and would lose their original shine, colour, and attractiveness.
Marble Floor Cleaning
Marble floors look truly stylish and luxurious. You can transform the interiors of a house with marble tiles as they come in a wide array of designs and patterns. To retain the shine and glow of your marble floors for years, you must mop your marble flooring regularly. Make use of soft, lint free cloth to mop the surface. Avoid using harsh cloth or brush as it can cause scratches and can spoil the beauty of your marble flooring.
You can occasionally wash the marble floor with lukewarm water. In case juice, tea, coffee, or any coloured beverage is spilled onto the marble floor, immediately wipe it off.
If your marble floors have become dull, buy a commercial marble cleaner and polish. You may also hire professional cleaners once in a year to reinvigorate your dull marble flooring and restore its beauty and shine.
Granite Floor Cleaning  
Granite flooring lends a sophisticated look to a home, but requires special care and maintenance to enjoy that rich look. You can use soap and water for casual cleaning. Watch out for any spilled drinks and food stains as they can take toll on your expensive granite flooring. As food stains and drink spills can tarnish the surface of the granite tiles, you must remove them before they dry out. Steer clear of harsh chemicals as they can damage your natural stone through erosion and can dull its natural shine and appearance.
Check out special granite floor cleaners in the market. At least once a year, you must treat your granite flooring with good quality sealant. By sealing, you can reduce the chances of your granite floors from getting stains, dirt and dust from penetrating inside the surface. Sealing also helps improve the durability of the granite floors.
Hardwood cleaning tips
Maintaining a hard wood floor doesn't require much of skill and effort, but you need to take good care of your flooring on regular basis. You must regularly dust, mop, and sweep your hardwood flooring. Never use water to clean the wooden surface as it can cause wood to lose its colour and shine.
To remove stains from spills and pets, you may use wood floor cleaner recommended by the floor finish manufacturer or installation company. Do not apply wax directly on the wood surface to remove minor or tough stains and scratches. Take a slightly damp cloth to wipe off the stains and then gently scrap them off without damaging the wooden flooring. You can make use of plastic tools to do this job safely and in a much better manner.
Mould and mildew can be the biggest enemies of your hardwood flooring. With wax and surface finishes you can prevent this problem to a large extent.
Vinyl flooring maintenance
Vinyl flooring is low maintenance flooring and is ideal for use in bathrooms and kitchens where spillages are quite common as vinyl is impermeable. Like any other flooring, vinyl floors to need to be maintained properly if you want them to look good for years to come. Regular moping and wiping helps remove most spillages and stains from vinyl flooring. But to protect your vinyl surface from scratches, you must put mats at the entrances. Always place pads underneath tables and chairs when moving them. In case the floor gets scratches, contact a professional to make the vinyl floor new like once again.
No matter what type of flooring you have in your home, take good care of it. Your floors are an integral part of your home. Neat and clean floors not only look attractive, but they are also safe and hygienic for your kids and pets. In addition, regular maintenance will add to the life of your flooring and would let you get the most out of your investment.
About the Author:
Rachel is a professional blogger who likes to write on diverse topics such as home improvement, Cleaning Marble Floors, Shopping and lifestyle.
The following two tabs change content below.
Sanju kmr
I am a Search and Social Media enthusiast who loves exploring the true potential of Web 2.0 and Social Media.
Latest posts by Sanju kmr (see all)