Clever Uses for Granite in Your Home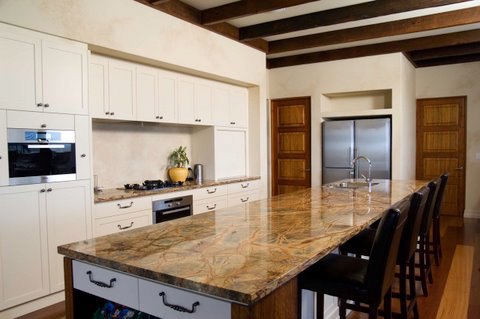 When people think of using granite in their home, they usually think about granite countertops in the kitchen. This is not the only way to utilize this beautiful stone in your home. Here are some other clever ways that you can more creatively upgrade your home with granite and add beauty.
Backsplashes
When thinking of a material for a great backsplash, why not consider granite? It looks just as great on the wall as it does as a countertop, plus it is a great material for shielding against grease and water. Plus, having the same material can provide a beautiful look of continuity and even save you money in some cases.
Bathroom Sinks or Basin
A unique way to utilize granite in a bathroom is in the sinks and basins. Pedestal sinks come in granite as well as under-mount sinks, or even the modern, angular basins. These sinks come with all the traits people have come to expect from granite, such as being water-resistant, shiny and classy looking just like countertops. They are easy to maintain as well.
Tabletops
While this still may be a surface area like a countertop, this is a newer way to use granite in your home. Becoming more and more popular in trendy home designs, table tops that have granite as the table surface on a wooden body is a timeless look. This is not just used on dining room tables, buttables in general and even desks as well.
Fireplace Mantles
Nothing is more appealing in a nice living room than a beautiful fireplace. What makes a fireplace even better is when it is crafted from a beautiful material like granite. When a fine material is used like this, the entire fireplace just stands out. The mantle is not the only way that this can be used in a fireplace either. The granite can be used to make the hearth as well. An easy to clean material like this is optimal around an area where there might be a scattering of ashes because it cleans up so well.
Showers
In a bathroom, granite is a popular choice for countertops on vanities and other table top surfaces. Another great way to use this stone is in bathtubs and showers. For bathtubs a surround can be built out of granite in order to give a more decorative setting to bathe. In the shower, the granite tiles can be used on the floors and walls to create a more formal spot to clean up.
The following two tabs change content below.
Sanju kmr
I am a Search and Social Media enthusiast who loves exploring the true potential of Web 2.0 and Social Media.
Latest posts by Sanju kmr (see all)