Carpets and Rugs Care Guide
Proper carpet and rug care is really important. Most people don't have too much time to focus on this matter, but the good news is that you don't really have to focus on it at all. You just need to create some useful habits and everything will work out fine. Carpet care doesn't need to take away too much of your spare time. In fact, there is a number of things you need to stop doing which will make the process much easier. I realize that building up those habits isn't going to be easy, but if you give yourself some time, I am sure you will manage to achieve a good level of carpet care in the end, without sacrificing much.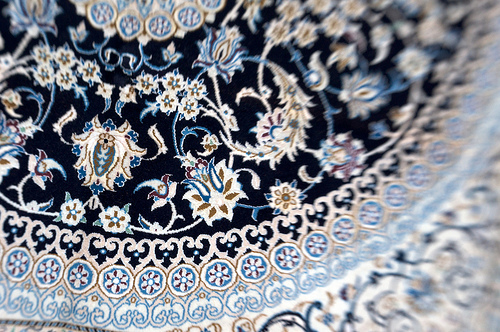 Carpets
Carpets can sometimes be quite expensive so the more you can squeeze out of their existence, the better. Proper care is essential for this, so take a few tips that might extend the life of your carpets with up to a few years.
First of all, stop dirt at the door… Literally. When you get home after a long day at work and can't be bothered with anything, the last thing you would want to do is vacuum clean the place, so let's take the next best option – taking your shoes off at the door. Seriously, if you're not doing it, do it. You're bringing in so much filth from the outside, I don't even get why some people do it (my mother was a very clean person so that was one of the first things I learned as a child – take your shoes off at the door). This will minimize the otherwise long and tedious process of carpet cleaning. Of course, there are other sources of dust, dirt, etc. So don't think it's going to be this easy.
Next step is purchasing an air filter. The better air filtration will result in less dust and, therefore, less work for you. Of course, the filtration alone won't really do much, which is why you should always have a good vacuum cleaner and vacuum frequently.
Should a spill or a stain come about, take measures right away – don't wait. The more you wait, the more difficult it will be to remove it, which means that you will have to use stronger chemicals and scrub harder, which I don't need to tell you is a bad thing.
Of course, all of this is nice, but most carpet manufacturers suggest, just to be on the safe side, to use professional carpet cleaning once at least every few months. This way some deeper cleaning occurs and some of the accumulated dirt and grime you weren't able to remove is disposed of.
Rugs
Rugs basically require the same amount of maintenance as carpets. It's always important to follow the manufacturer's specification about cleaning. This makes it easier for some rugs and more difficult for others. For example, if your rug can be cleaned in a washing machine, take it outside and try to dispose of most of the dust and hard particles, then throw it in the washing machine, let it dry and put it back on the floor where it belongs. Some rugs require professional cleaning, however. Some need to be handled with professional care, and others require dry cleaning. You wouldn't risk trying to clean an expensive Persian rug on your own, would you? Always follow manufacturer's specifications and you should be fine. And always call professional cleaning if in doubt. It's better to pay a few bucks for a cleaning then a lot more for a new rug, don't you think?
The following two tabs change content below.
Sanju kmr
I am a Search and Social Media enthusiast who loves exploring the true potential of Web 2.0 and Social Media.
Latest posts by Sanju kmr (see all)