Best Color Palettes for your Kitchen Cabinets
As devoted homeowners and passionate chefs in our own kitchens, we want to enjoy cooking in a space that's relaxing, chic, and practical. For that to happen, we might be compelled to do some restorations. Changing the general allure of our kitchen doesn't have to be a $1,000 investment, and the best way to refurnish on a budget is to paint our kitchen cabinets. Oak cabinets are a bit sensitive because oak is porous; prior to getting started, consult with a specialist to determine the type of sandpaper, paint, and primer best advised for your cabinets. As soon as that endeavor is completed, it's time to pick a color.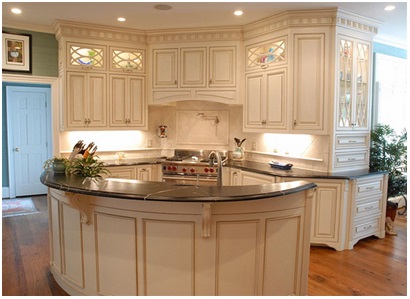 Beige influences
Kitchen spaces should be wide and spacious, not to mention that it's equally important to be luminous and inviting. You whole family should feel rejuvenated as soon as they step foot inside. The earthy-brown shade of oak cabinets can easily be replaced with a beige shade. It has that vintage-like appeal and it will surely make your cooking space more attractive. If your cabinets are classic, you can also paint the color of your counters. Black for instance, works extremely well when combined with beige. The end result will be a wider, more inviting kitchen that will certainly make daily activities a lot more pleasurable.
Dark cherry-red nuances
Cherry-red is a classic color palette for kitchen cabinets. Yet, a dark cherry-red will exceed your expectations. The color works great with lighter nuances such as pink, lemon, beige, and white. So if your walls and floors are brighter, adding a pop of color by painting your cabinets in cherry-red might seem like an excellent idea. Every cooking space needs a makeover every once in a while, so when a budget is not enough for new cabinets, restoring the old ones can be a lot more convenient. To give your space a minimalistic appeal you can always play with the colors. For example, paint the doors of the oak cabinets in light cherry and leave the rest of the cabinet darker.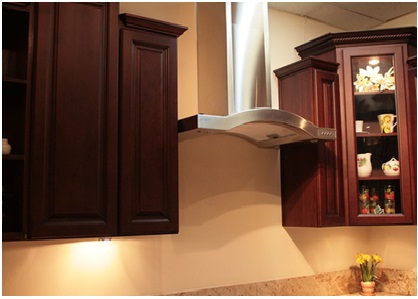 The baby blue effect
Just because your kitchen cabinets have a uniform color, it doesn't mean you can't be innovative and switch things up. A traditional cooking space that doesn't dispose of a lot of space should have light colors to broaden the area. In order to support that effect, you can make your kitchen cabinets seem modern by painting them in a baby blue shade. Don't paint the whole cabinet though, only the door. That splash of color is important; you're not repainting, you're reviving a kitchen and you're making it look more appealing for yourself and your entire family.
All-black kitchen cabinets
Some kitchens are just too wide for light shades, so rather than turn your space into a never-ending cooking area, it's best to make it comfortable and practical by painting the cabinets in a dark shade. Black works wonderfully with modern kitchens; make sure your appliances have metal insertions and the effect will be even more impressive. The counters should be neutral, and in this case you can opt for whatever color that comes to mind. Nevertheless, try to keep things jovial and don't exaggerate with the dark. The floor should have a light brown tone, and the walls can be blue, beige, or white.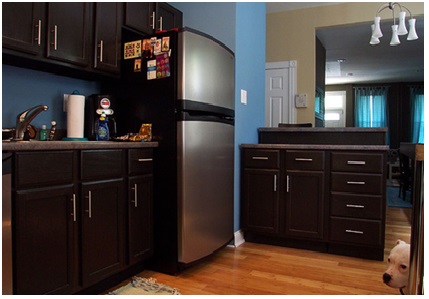 Now that you have the colors and the tips to make your kitchen look chic and modern, it's equally important to learn more about the painting process. If you don't master the technique, you won't be able to make your cabinets look new. Sloppy painting will eventually ruin your cabinets, and you might have to replace them. High-quality paint meant for kitchen cabinets is extremely important, and it's best to ask for some advice from professionals if you're not familiar with the type of paint needed for the cabinets. After you're removed the cabinets and painted them properly, don't forget to sand the surface with a suitable sandpaper. Take your time because the whole process will most likely be extremely tedious. After the surface was properly sanded, sweep off the extra dust, and wipe the cabinets with a tack cloth. Painting process complete!
The following two tabs change content below.
Sanju kmr
I am a Search and Social Media enthusiast who loves exploring the true potential of Web 2.0 and Social Media.
Latest posts by Sanju kmr (see all)