Bathroom Remodeling Ideas to Keep Your Toolbox Happy
I've found that my tools are happier when they are being used. I've also found that my wife is happier when my tools are being used as well. It almost makes me think that the two of them are in collusion in some way of another. Nevertheless, as long as my tools are busy doing things around the house, my wife doesn't complain about what I spend on them.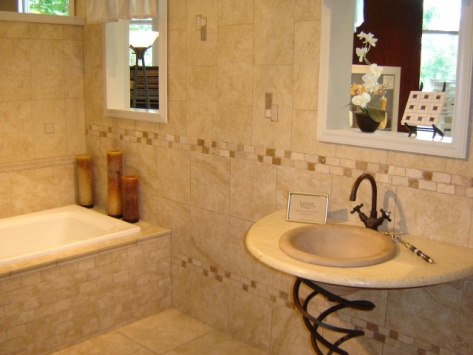 One of the great places to put your tools to work if you want to make your wife happy is in the bathroom. Now, I know that to us guys a bathroom isn't much. After all, we just use it and leave when we're done. But to a woman, a bathroom is much more. Haven't you noticed how much time they spend in the bathroom? Well, there's a reason for that. So if you can transform your average boring bathroom into a home spa for your wife, she'll be thrilled.
In most cases, bathroom space is limited. But that doesn't mean that you can't make it a great place for your wife. It's not so much about the space, as how that space is used. If you can find ways of making the space into something special, she'll definitely see it and appreciate it.
1 – Tile it – There's nothing that says "elegant bathroom" like tile. Don't just go for the plain, boring tile either. Make a nice design that fits your wife's personality and likes. High dollar bathrooms have the same tile extend out of the tub/shower area and into the rest of the bathroom.
2 – Put in a pedestal sink – Modern bathroom styles go for pedestal sinks. More than anything,  a pedestal sink makes the bathroom look larger, by making the sink appear to take up less space. In a small bathroom, that can make a big difference.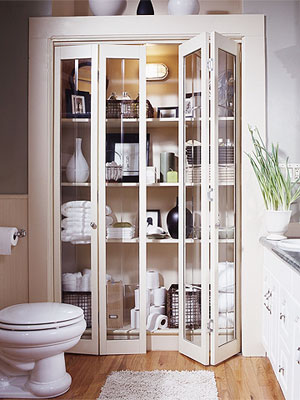 3 – Add a skylight – Skylights add a lot of free lighting to a room. They're "green energy" while providing overhead "soft" lighting. They also provide white light, as opposed to "cool" or "warm" lighting. That's important to her when she's putting on her makeup.
4 – Put in a shower door – Shower doors are another addition to a bathroom that makes it look bigger. Most bathrooms have a combination tub/shower, with a shower curtain. That shower curtain cuts off two and a half feet from the end of the room, making a small room appear even smaller. With a shower door, you have the visual advantage of that space.
5 – Add "open" storage – Open storage doesn't have to be open to appear open. The idea here is to add storage space, without having it make the room look smaller. There are a number of ways of doing this, such as building in a glass doored cabinet. While your wife may complain for a moment about things being visible, she'll get into the spirit of things and find ways of displaying everything in an attractive manner. If you can do this, without stealing space from the room, so much the better.
Another way of adding open storage is to build cubbyholes into the wall. You've got 3-1/2" of dead space in the wall, plus the thickness of the drywall. Make shadow boxes to fit into this area, taking the full depth for additional open storage. Be careful to fully seal the area off though, so that steam from the tub won't start mildew growing between the walls.
Bathroom remodeling is only the tip of the iceberg. We cover new home improvement project ideas every week and we also have a large power tool comparison.
The following two tabs change content below.
Sanju kmr
I am a Search and Social Media enthusiast who loves exploring the true potential of Web 2.0 and Social Media.
Latest posts by Sanju kmr (see all)