After Renovation Cleaning Tips
Renovating your home is one of the most difficult things. Usually it takes a lot of your spare time and when you finish, you are supposed to deal with a really big mess. But although it is very annoying, regular renovation of your home is the key to its proper maintenance. Once in a while, we all need to remove the wallpapers; get rid of some old and unused stuff and reorganize our furniture.
But when all the excitement around the new look of your home vanishes, and you take a look around the house, you suddenly realize that it is a disaster.  So how can you possible deal with all the mess after the renovation of your house? How can you clean the whole house, get everything back on its place and be absolutely sure that you have made all this properly? Here are some after renovation cleaning tips, which you may find useful.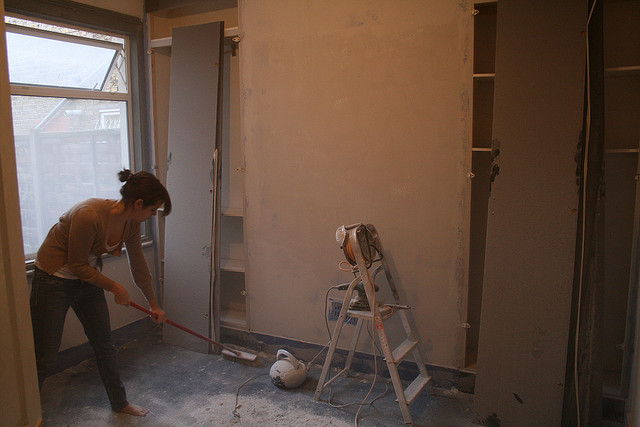 Hire a professional
Well, this is your first and perhaps your most appropriate solution. If you are one of those busy homeowners, that hardly ever find time for cleaning and doing their household chores, then you will definitely have some troubles with after-renovation cleaning. In this train of thought, your best option is to hire a professional cleaning services, which will do all the job for you. You can be absolutely sure that you will be satisfied with the final result; you will not have to waste your time washing, rearranging and vacuuming. They will come and do all the cleaning in no time. All you will need to do is sit back and relax.
If you cannot afford it…
Hiring a professional cleaning team is a great solution for your problem. However, it is definitely not the cheapest one. In fact, cleaning services are considered to be quite expensive. That is why, we offer you another solution. Here are some great DIT cleaning tips.
Remove all your old stuff and construction materials
You can pick up some other room (or the garage) and get all your old furniture, decoration etc. in there. This will open the space and you will be able to clean much easier.
Wipe down your walls
During the renovation, your walls can become really dusty. That is why vacuuming is definitely not enough. Take some clean, cotton cloth, soak it in warm water and detergent and wipe the walls. Be aware that you can make some serious damage on the wallpapers. That is why you should pick up some small area and see if the wallpaper allows you to clean it with water or not.
Vacuum
In order to get rid of all the dist and dirt, you will have to turn the vacuum cleaner on. Try not to leave some area unattended.
Clean the floor and the windows
 This is the last step before putting everything back on its place. Use a mop to clean the floor. This is necessary because it will get you rid of the all the smaller dust particles, that the vacuum cleaner cannot remove. As for the window – if you don't have a special cleaning detergent, then perhaps a bucket of warm water and some whit vinegar can do a great job.
Author The Author: July Minor is a specialist working at    http://www.bestcleanerslondon.co.uk/sw10-end-of-tenancy-cleaning-west-brompton/. Being  a  freelance blogger helps her   to reach more people and to share her knowledge.
The following two tabs change content below.
Sanju kmr
I am a Search and Social Media enthusiast who loves exploring the true potential of Web 2.0 and Social Media.
Latest posts by Sanju kmr (see all)