8 Major Spring Geometric Trends in 2018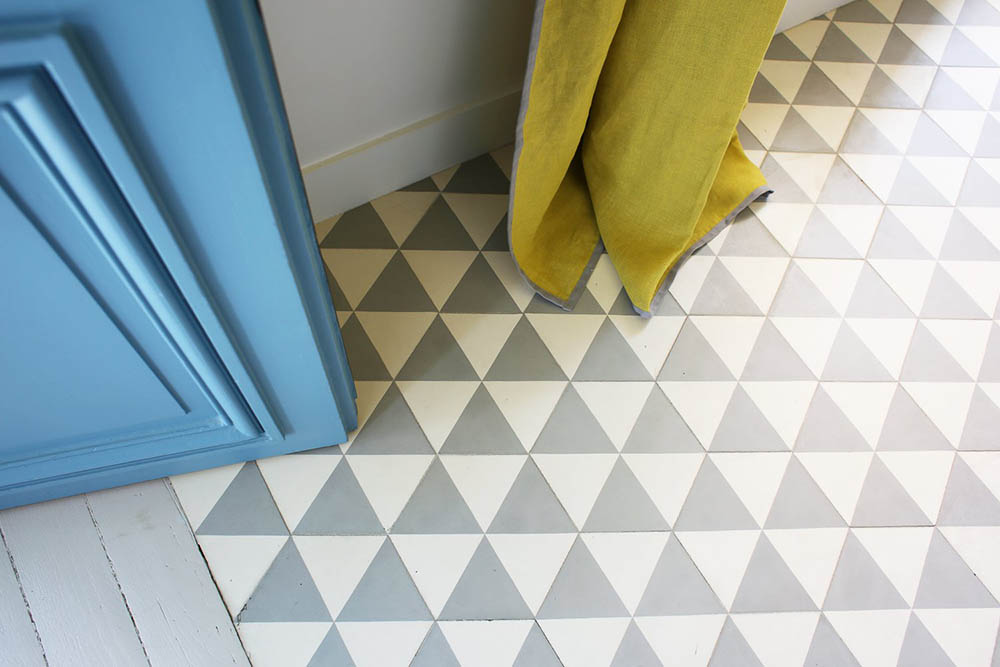 Image Source: insidecloset.com
This spring, bold geometric patterns and floral prints are taking over. From gold plated geometric lamps and vases to geometric decorative pillows and prints, spring home decor is going to be a little edgy, a little artsy, and a little quirky. If you're looking for something less predictable than subway tiles or a solid colored wall, then geometric home décor inspirations might just be exactly what you need!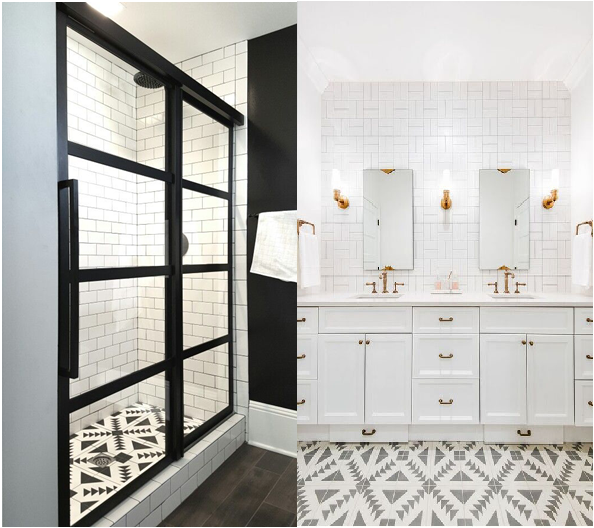 Image Source-customhomeonline.com  |  Image Source-blog.caitlinwilson.com
1| Geometric Floor Tiles
From large format tiles to abstract geometric floor tile to hexagon porcelain tiles, expect to find clean lines on walls and floors this spring. Two hot trends in tiles are dark grout with white tiles and retro abstract tile patterns. You can also get the geometric tile look with penny rounds. Small tile pieces can be arranged to create a geometry-inspired mosaic that's one of a kind. If DIY isn't your thing, stick with classic alternating black and white square tiles. Checkered black and white tiles will add that extra zing to your floors.
Image Source-mydomaine.com  | Image Source-atmine.com
2| Eclectic Geometric
Bring the eclectic geometric inspiration home with geometric 3D lamps, retro Modern Midcentury furniture pieces, and tribal weavings such as rugs, runners, and wall tapestries. Tribal patterns especially have plenty of geometric and floral motifs woven into each piece. Depending on what you like, tribal weavings can be used as a statement piece or layered together as complementary textures. Go all out with the eclectic geometric home décor and deck out your walls with some framed geometric prints and graphics.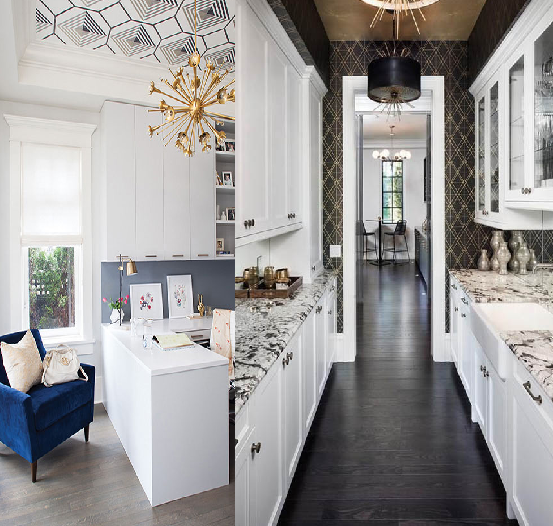 Image Source : blog.huffharrington.com | Image Source : decorpad.com
3| Geometric Pendant Lighting
Make a statement in any room with a geometric light fixture. A warm metal finish is trendy for geometric lighting. You can find popular geometric light fixtures in warm finishes such as brass, oil rubbed bronze, and gold. You can also find stylish geometric lights in black, brushed silver, and chrome. Geometric pendant lights are perfect for many home décor styles, including contemporary, Modern Midcentury, and Industrial Chic.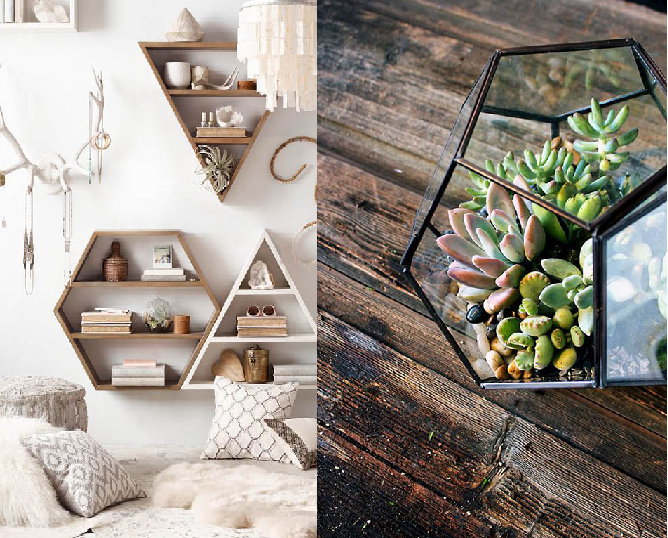 Image Source : homebnc.com | Image Source : nanatoulouse.com
4| Geometric Terraria and Shelving
Add a little green to your home décor with real plants and fresh flowers. Geometric plant holders and gold metal containers are taking up spaces on tables and shelves this spring. They are fun, quirky, and unique. You can also get really creative and install geometric floating shelves on the wall to display miniature terraria, small books and light reads, accessories, and keepsakes. Floating shelves are popular in trendy contemporary homes. Go for gold metal shelves for a glamorous touch and luxe home decor, unfinished shelves for a boho chic home, or white floating shelves for a shabby chic interior motif. Complete the look with hexagon or beehive shaped mirrors.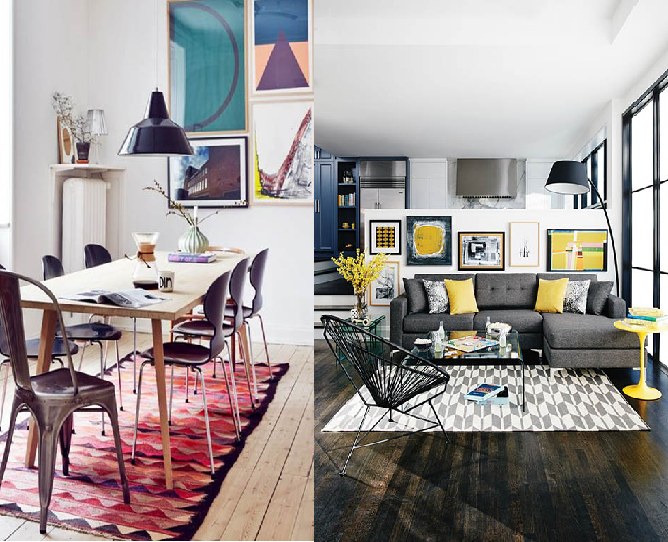 Image Source (left): mainlifestyle.dk  | Image Source (right): modernhomedecor.eu
5| Abstract Prints and Graphics
One fun way to add some geometric pop to your walls is with abstract prints and graphic art. Putting up wall decor is the easiest way to update your home decor. You can swap out frames in a few minutes and hang up additional frames on your wall gallery in seconds. Hexagonal prints, Mid Century Modern art, triangles, or even geometric shapes with watercolor textures are great to frame on the wall. There are plenty of colorful art and graphics that you can find that will suit your home decor. You can even find abstract animal and abstract floral prints inspired by geometric shapes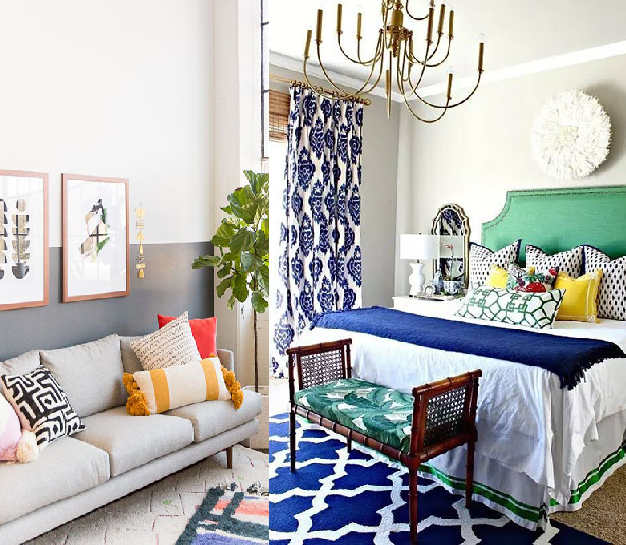 Image source (left): papernstitchblog.com   |   Image source (right): homedecor17.com
6| Geometric Decorative Pillows
Geometric prints, like Trellis patterns and herringbone, are popular for all kinds of home décor accents like decorative pillows. You can also find many other geometric patterns like chevron, zigzag, and abstract nonrepresentational patterns. From simple shapes to sophisticated geometric patterns and tribal prints (such as Aztec inspired designs or traditional kilim motifs), you can find many fun and interesting styles and textures in decorative pillows to throw on the couch. The secret to pulling off this look is keeping the rest of the home decor simple by using solid colors and adding accent pieces like decorative pillows, throws, or geometric curtains. Mix and match different patterns and colors for a sophisticated and eclectic home decor.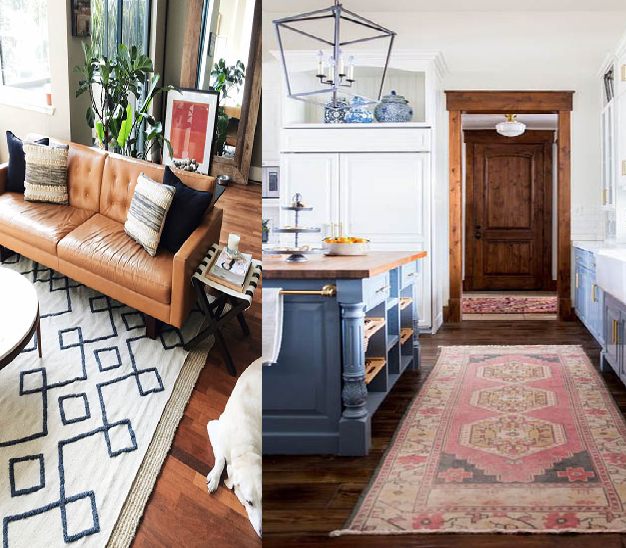 Image Source (left): annabode.com   |   Image Source (right): jamiebellessa.com
7| Geometric Rugs and Kilims
One of our favorite ways to show off beautiful geometric patterns in the home is on the floor with rugs and kilims. Every pattern found on handwoven tribal textile is one of a kind. Throw a geometric area rug in the living room or lay a runner in the hallway or the kitchen. Show off a traditional kilim in the bathroom. Geometric patterns look great in any room! Geometric flooring coverings, especially with black and white patterns, are easy to use to make a statement. They automatically draw attention and create a focal point or centerpiece with their bold pattern.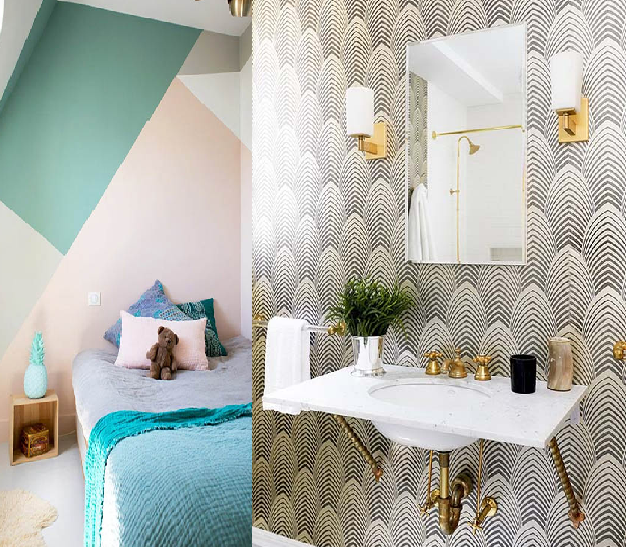 Image Source (left): insidecloset.com   |   Image Source (right): designinnova.blogspot.com
8| Accent Wall Geometric Wallpaper and Paint
Transform any room by creating a focal point or accent wall. A striking geometric wallpaper is a bold way to make a statement in any room. Hexagon, herringbone, chevron, metallic, cubes, Trellis, triangles, diamonds, and circles are all fun geometric wallpaper patterns. Trendy colors are neither subtle nor loud. Sophisticated color palettes include hues such as beige, grey, blush, white, pink, cream, blue, soft green, and lilac. Bold color palettes for wallpapers include black and white, navy blue and white, mustard yellow, green chartreuse, and burnt orange. Wallpapers are perfect for the kids' room, play area, kitchen, hallway, family room or any space in the house.
About the author: Lucy Parker is the Resident Design Consultant at HomeDecorAZ.com .  When she's not busy helping clients with interior design projects, Lucy writes blog posts related to home décor. She's also a foodie who loves traveling and enjoys movies (except  horror).
The following two tabs change content below.
Sanju kmr
I am a Search and Social Media enthusiast who loves exploring the true potential of Web 2.0 and Social Media.
Latest posts by Sanju kmr (see all)