5 Simple Tips to Redesign Your Bedroom for Better Sleep
Nothing is quite as personal as your own house or apartment – as you settle in, redecorate and add little touches of intimacy here and there, it quickly becomes an extension of your being. However, the real temple of security and comfort within it is supposed to be your bedroom.
This is where you rest and unwind after a hard day at work. This is where you dream your sweetest dreams and this is the place that helps you soothe yourself back to sleep if you happen to wake up from a nightmare.
It does not have to cost you a whole lot of money and it certainly does not have to take up a lot of your precious time – if you are aware of some simple, yet ingenious, tricks that can lead to the perfect sleeping environment, you will be able to create your own replica of a slumber sanctuary with the help of just a few clever adjustments. The tips below will work especially well if you have a small bedroom on your hands.
Better yet, you will not even have to search for the tips, as we have them collected for you here in a handy and succint list.
Find the ideal spot for your bed
The first, and possibly the most important, dilemma that you will face when redecorating your sleeping area is the place of your bed. Your best bet is putting it beside an interior wall, further away from windows and doors – you will avoid excessive light and uncomfortable draughts by doing that.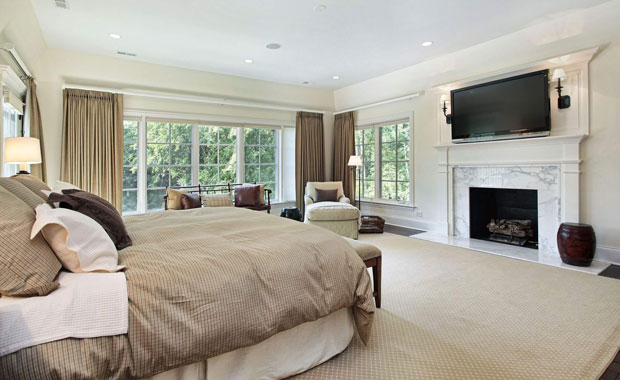 Having a nightstand beside your bed will also add to the feeling of cosy isolation. Make sure to keep the path to your bed absolutely clear at all times. You do not want stumble and hurt yourself if you happen to be wandering around in the dark during the night, do you?
No lights
Dimming your bedroom lights one hour before heading to sleep is an absolute necessity for anyone wishing to have a proper rest. However, it is not as simple as flipping the switch, especially if you are looking to create that perfect bedroom environment.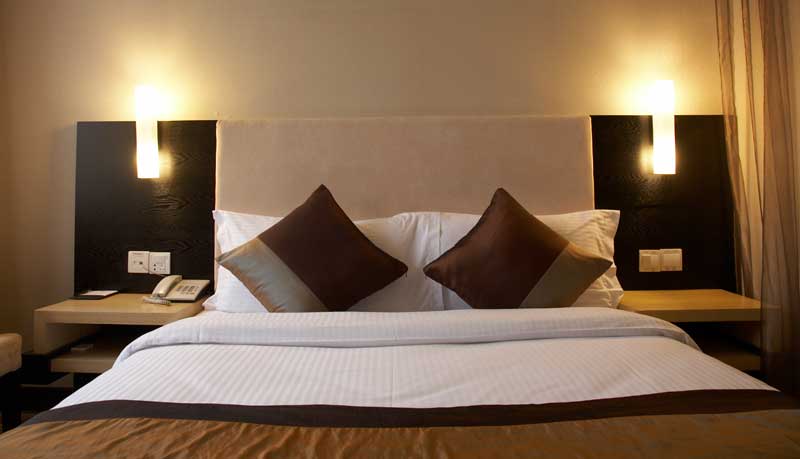 There are a variety of cheap lampshades on offer, which can be used both to get you in a sleeping mood and provide you with heaps of cosiness while you are getting ready for bed.
Dimmer switches are also an excellent idea – you will be able to make your room just as bright as you think fit. You should pay attention to the light that various electronic devices – TVs, alarm clocks, mobile phones and so on – give off during the night, as they are notorious for disturbing our natural sleeping patterns.
Put all of them in a drawer or place them in a way that precludes the light from reaching you and you will be sure to sleep much more soundly. Do not forget to purchase some window blinds, shades or curtains in order to prevent that morning sunshine from waking you up too early!
Choose the right colours
This is particularly important if you are thinking of repainting the walls of your bedroom. Certain colours have certain effects on our mood and emotions, and this fact can be utilised to combat sleeplessness.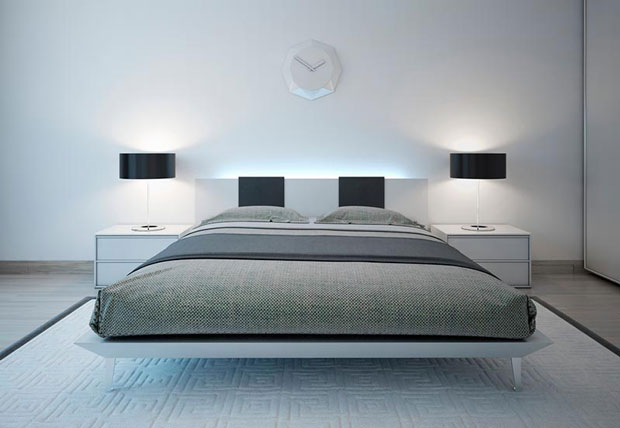 Go for soothing pastel hues or muted light tones – darker colours can also help you create a more intimate environment as long as they are not too gloomy. Another excellent tip is to use shades that are right next to each other on the colour wheel because combinations like this improve your ability to relax and allow you to fall asleep more quickly.
Of course, pouring some bright, lively hues into the mix will not do any damage but it is important not to overdo things. You can add a touch of colour to your bedroom by choosing bright accessories, purchasing colourful bedding or hanging a contrasting painting on one of your pastel walls.
Delve into the world of mattresses, sheets and pillows
These three are even more important than the frame that you put them on, however, as there is such a mind-boggling variety of items currently on the market, the choice can only depend on your individual preferences.
Do you like firm or soft mattresses? What size do you prefer? Are you a fan of air beds, waterbeds or traditional spring mattresses?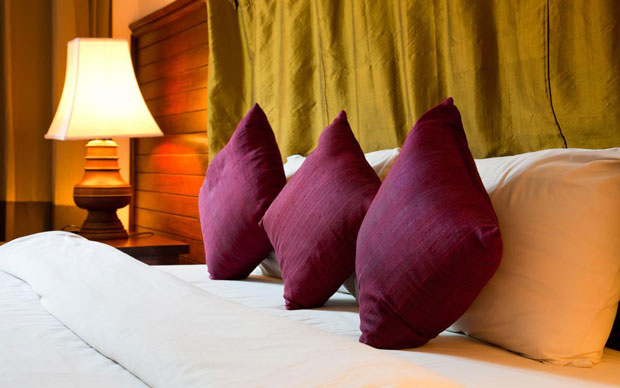 The choice is yours and you are sure to find a mattress that fulfils all of your personal needs. Apply the same principle when purchasing pillows and sheets. Give various materials a chance, do not be afraid to try out different textures and go for the one that feels right for you, in terms of both comfort and looks. Take your time to do the research and read review of the mattresses and other sleep related items that you bring into your bedroom.
Apart from the staples of a well-designed bedroom, a well chosen detail, like a good set of silk sheets and pillowcases can make all the difference.
Decorate your way to perfection
When it comes to decorations, striking the balance between too much and too little is absolutely key – the former means clutter, while the latter may leave your bedroom looking cold and impersonal.
Adorn your sleeping space with photographs of your loved ones, souvenirs from various travels or some of your favourite paintings. Flowers and houseplants are also a must. Not only do they look beautiful, but they also do a great job of clearing various toxins from the air – and clean air equals wonderful sleep.
Simplicity is key
These tips are incredibly simple and surprisingly effective. To be fair, the way to better sleep, as well as a cosier house, is hardly ever winding – all you have to do is listen to your natural bodily instincts and implement the wisdom that they are relaying. A decorative lamp, a colourful blanket, a homely painting and some strategic thinking are the only things that separate you from a wonderful bedroom and a quality rest.
The following two tabs change content below.
Sanju kmr
I am a Search and Social Media enthusiast who loves exploring the true potential of Web 2.0 and Social Media.
Latest posts by Sanju kmr (see all)