5 Important Tips To Know Before Buying Engineered Flooring
Nowadays, in the world of flooring there are various options to select from. You can choose as per your personal taste and budget as well. From vitrified tiles to wooden flooring, there is no shortage of choices.
Some flooring options can really impress you to the core of your heart, and engineered flooring is definitely one of them. For those who do not know, engineered floors are also made from wood; but, there are slight difference between solid hardwood and engineered hardwood floors.
When it comes to installation, the engineered form of wooden floors is very easy to handle. Apart from the aspect of easy installation, you will also like its versatility and durability.
Engineered hardwood floor comes in various designs and patterns. In terms of durability, you can certainly rely on them. In order to help you understand these things in a better way, let us take a look at some useful tips regarding the selection of engineered wood flooring.
How to purchase the right engineered flooring?
Wear layer- If you examine the engineered wood flooring carefully, you will find numerous layers stacked upon each other, but in a cross way. This particular feature of engineered wood flooring makes them so durable and tough. Now, the layer that remains on the top is called as the wear layer. As a matter of fact, this layer comprises of hundred percent hardwood. Therefore, when purchasing engineered wood flooring, you must pay attention to the quality and the thickness of the wear layer. If the wear layer is thick enough, the flooring will not get damaged easily. The average thickness in this case remains around 6 mm.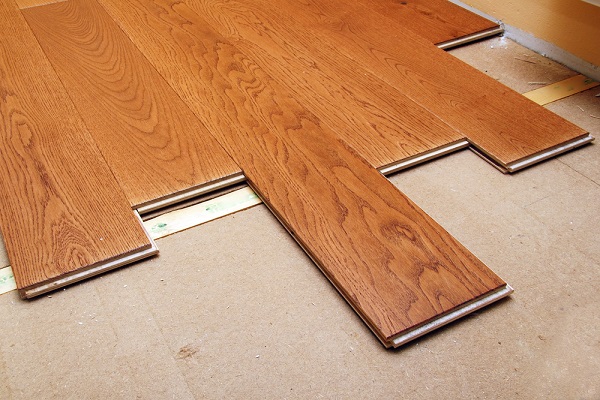 Under-core- This part or layer of the engineered wood flooring is not easily visible. This particular layer provides stability to the floorboard, and hence you cannot ignore the importance of it. In this case, you have to make sure the under-core layer comprises of multi-laminate hardwood. The incorporation of hardwood ply adds good amount of stability to the whole floorboard. When the hardwood ply is of good quality, the installation of engineered flooring becomes easier.
Size- If you browse through online stores, you will come across engineered wood floor broads of various sizes. The size does matters in determining the overall look of the floor. For this reason, when you choose a size, make sure to discuss with an expert regarding the same.
You cannot expect to get an excellent look by installing shorter and thinner floorboards. This is the reason why such floorboards are cheaper in price. If you want to add more beauty to your home them longer floorboards are more apt. Nevertheless, it also depends on your personal preference and budget too.
On the other hand, un-treated boards allow you to design them as per your needs. In this regard, it is important to mention that if you purchase un-treated boards then make sure to hire the right service provider for treating the same. If the hardboards are not treated well then, they might easily get damaged during the process of installation.
Price- This is something you need to compare by doing a little research. There are various brands available in the market, and their prices vary. So, comparing the quality aspect as well as the price is really important in choosing the best option among all.
The following two tabs change content below.
Sanju kmr
I am a Search and Social Media enthusiast who loves exploring the true potential of Web 2.0 and Social Media.
Latest posts by Sanju kmr (see all)