10 Ways to Make Your Home Look like a Celebrity's
You do not have to spend a million dollars to make your home look like a million bucks. All you need are a few staging techniques and—voila!—you have yourself a home fit for a celebrity.
Entrance
First impressions are important, and the outside of your home is the first thing people see as they arrive.Try a black or bold, cheerful paint for the front door.You could trya new stone walkway (just do a local search, like "natural stone Toronto" to find the best deals), plants to frame your doorway, or new hardware to get a new look. Just be sure not to overcrowd the entryway; placing too many items for the space will make it appear less inviting.
Remember, a welcoming entry helps set the tone for the rest of your home.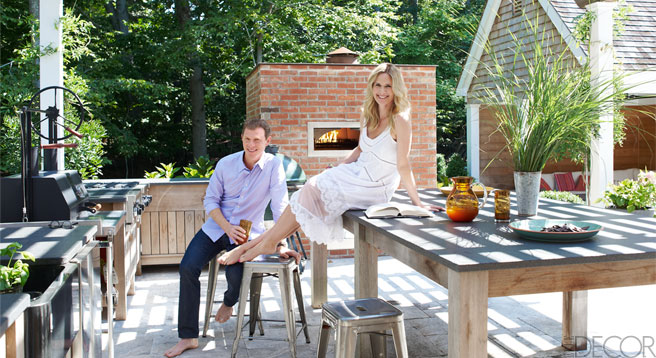 Cut clutter
Don't be afraid of empty space. Many people feel the need to fill space just for the sake of filling it, but too much stuff crowds a room and makes it look smaller than it is. Do not be afraid to get rid of things you never use, do not need, or that are taking uptoo much room. Give things to charity, have a yard sale, or just toss things that are of no more use. A good general rule is if you haven't used it in three months, box it up and store it; if you haven't used it in a year, get rid of it.
Leave some empty space on every shelf and table, and consider hanging less on your walls. Clear space in closets, cupboards, and cabinets so that things do not get lost in the back. Make "less is more" your mantra.
Many people have too much furniture, as well as too many things. There should be no more than two furniture pieces per wall, and if you do not use it,lose it.
Furniture
If your home has had the same look for years, it is probably time to mix it up a bit. Don't be afraid to move furniture around from room to room. Just because you bought that armchair for the living room doesn't mean it wouldn't look great in your bedroom sitting area. Move the coffee table into the dining room with a loveseat and ottoman, and create a conversation nook. And that dining room table you're no longer using? Make use of it as a library reading table, or a writing desk. You can create an entirely new look—for free!—when you switch existing furniture around.
It is common to think that a room will feel larger with furniture placed up against the walls, but it's not true. Move furniture away from the walls to create cozy conversation areas, and envision an '8' or an 'H' when placing it around the room, making sure to leave pathways around the furniture. It will open up the room and make it more user friendly.
Make the most of your rooms
One thing that makes most million-dollar homes different from "regular" homes is they have a "non-practical" area that is there just for the sake of being there. This includes spaces like a game room, meditation room, art studio, etc. Clear out the storage room and create your dream yoga room, or clear out under the stairs to make a little reading nook.
It is possible to make any awkward space functional with enough imagination. Place a desk in a closet;wall-to-wall shelves and a small desk in a room with slanted ceilings creates a personal office area.
Making use of every space available and having a fun room or two is a great way to make your home memorable.
Lighting
Let the light in! Thelighterit is, the more open the room will feel. Let in as much light as you can through the windows with sheer blinds and curtains, and overlap lighting fixtures. A general rule is to have 100 watts per 50 square feet in the room, with installed dimmers to give you more options.
Overlap light by having as much light coming in from the window, ceiling lights, and wall lights or lamps. Consider placing small mirrors behind lamps or lights to bounce even more light around the room, or install uplights you can hide behind potted plants or other decor to create an even more dramatic look. Having different sources of light from multiple levels makes a room look richer, warmer, and more interesting.
Fixtures also play a big part in the look of your home. Keeping the builder-grade light fixtures just tells everyone you have the same "regular" house as everyone else, and that's not what we want! Home improvement stores, lighting store's overstock sales—even thrift stores!—can have fixtures with personality that catch the eye and give you that million-dollar look without the million-dollar price.
Color is everything
The darker a room is the smaller and more closed it feels. Keep walls, ceilings, rugs, and large pieces of furniturea light neutral color to give a feeling of openness. Painting the walls the same color as your drapery also creates the illusion of more space and gives off a seamless and sophisticated look. With this neutral base, you can then add pops of color in accessories, art, pillows, and small rugs.
Another trick: paint your interior doors black. This includes doors to rooms as well as to any closets.It instantly makes inexpensive doors look richer and much classier. Don't forget to add a few other black touches into your décor—like picture frames, lamps, or small furniture—to tie the doors into the rest of the house.
Art
Art becomes invisible when it is hung in the typical place high on the wall and in a straight line. Play with patterns and different groupings to grab attention. Have one large piece to create a "wow" factor for your room. It doesn't have to be expensive;download free art off the web, go to a local printer, have the image printed extra-large, and put it in an inexpensive frame. Also, try looking at art schools to find good talent for a smaller budget. Consider cutting the image into three sections and placed into separate frames to create a triptych. The key is to hang the panels to look like one oversized piece to create a focal point in the room, and make the place look more stylish and expensive.
Accessories
The right accessories will make a room feel welcoming and inviting. The most eye-pleasing groupings are odd numbers, with three and five being the most preferred. Instead of setting your accessories out in a straight line or a box, think of a triangle with one object placed at each point. For a grouping of five, place three objects in the triangle shape, and place the two remaining objects on either side of the triangle. Remember to have varying heights and shapes, along with placing the tallest object in the back.
One thing that all million-dollar homes have in common is expensive floral arrangements set all over the home. While that may not be in your budget, you can bring things in from your yard. Pick seasonal flowers, branches, twigs, leaves, or anything you find outside. Create multiple arrangements to place around your home to upscale the look.
One last tip on accessories: over-plumpedand extra large pillows make the room look more luxurious and high end. Pillows that are 18 inches or less can scream "store bought", while larger, plumper pillows seem custom-made and expensive. Search around, have them custom made, or make them yourself to get that more extravagant look.
Kitchen and Bathroom
For the kitchen, investing in more contemporary appliances will up the look even further. Stainless steel is always a good option; it is sleek and matches almost everything. If you cannot afford brand new appliances, check with the manufacturer; they may sell new front panels for your appliances in different colors you can choose from. If not, try using laminate paper to change the look of your appliances.
Cabinets in the kitchen and bathroom can make or break a look. Buying completely new cupboards can put a hole in your wallet, but repainting them or simply buying new fronts could be some options. Installing new handles to the fronts of cupboards and drawers will instantly create a more sophisticated look.
If you want a million-dollar look, stay away from builder-grade faucets. Everyone has them and they will just fade into the background. For not much more money you can find faucets that stand out and are sleek and classy, adding to the look of the room.
Having tile in both the bathroom and kitchen, painted or polished, can instantly make the room look brand new.
Moulding
Moulding is an easy way to create the look of a million-dollar home. The bigger the trim, the pricier it looks, and more ornate it makes your home. Choose taller base moulding and wider crown moulding and trim around doors, windows, and fireplaces.
If you cannot purchase the more expensive wide moulding, buy a smaller piece, and place it a few inches away from your existing moulding. Paint both pieces of trim and the wall between the same color and finish. It creates the illusion of wide moulding and will give you that elaborate look you're going for.
Follow these tips and watch your regular home transform into a million dollar home fit for any celebrity!
Author Byline
Chris Miller is a professional writer, blogger, and English grammar enthusiast. Chris enjoys learning about new health products, DIY projects, and anything doing with the home.
The following two tabs change content below.
Sanju kmr
I am a Search and Social Media enthusiast who loves exploring the true potential of Web 2.0 and Social Media.
Latest posts by Sanju kmr (see all)